One look at my DVD collection will tell you: I love westerns. I'm a particular fan of the black and white ones, in which the antagonists are outlaws and bandits — not indians. My modern-day political correctness is like the "River D" cattle brand (Red River, 1948). It's here to stay.
My all-time favorite western is Shane (1953), but Butch Cassidy and the Sundance Kid (1969), Hondo (1953), 3 Godfathers (1948) and Stagecoach (1939) are honorable mentions.
Fandom started early for me. When I was a kid my family attended church regularly, and western TV shows from the '50s and '60s were part of my Sunday after-church ritual. I watched The Big Valley, Maverick or The Wild Wild West – whatever was showing on our local UHF station.
Yep, this was technology's frontier age. If you wanted to change the channel – there were four to choose from — you stood up, walked over to the television and turned a KNOB left and right until you were (relatively) satisfied with the reception. It was another century, after all.
These days, cable TV brings me more than 1,000 channels with programming in multiple languages and ever-increasing states of visual clarity. (HD! 4K!) There's always something new to watch. Yet hidden among the home shopping, 24-hour sports and news networks I've discovered a retro gem – Bonanza! You can find it on MeTV and INSP ("wholesome entertainment, movies and classic shows"), sandwiched between the likes of The Waltons and Car 54, Where Are You?.
Bonanza lasted for 14 seasons (1959-1973) and ranks as the second-longest-running western series of all time. It told the saga of the wealthy Cartwright family, living on the biggest ranch in the Nevada Territory shortly after the Civil War. The stern-but-kind patriarch Ben (Lorne Greene) had three sons, each by a different mother who died in childbirth, or shortly thereafter. He was sort of a catch, but kinda not really. Falling for him could be hazardous to your health. Lucky for Ben, he had a nice face.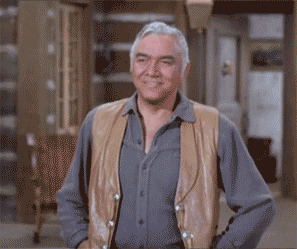 Because I discovered Bonanza long after its heyday, it's easy to think of it as a sleepy little show. Guest stars sometimes delivered cringe-worthy performances, but a few heavy hitters stopped by too. Jerry Newton, before he became Wayne, sang "Scarlet Ribbons" in the Virginia City saloon, and it was beautiful. Teresa Wright (
The Best Years of our Lives
,
The Pride of the Yankees
) was Katherine Saunders, Ben Cartwright's fiancée. She broke his heart, but at least she made it out alive.
George Kennedy (Cool Hand Luke) made two appearances. Mariette Hartley appeared four times. Once she was Ben's love interest who also survived (barely). The following season, she fell for his son Hoss. Thanks to the magic of DVR technology, I am able to record and binge watch Bonanza, so I notice when guests return often as new characters.
"Hey, that's Jenny Carlisle! Why does everyone keep calling her Miss Lola Fairmont? Is Pa gonna go for his six-shooter when he sees Hoss kissing her? Will there be a father-son throw down out by the barn?"
Those of us with keen eyes and ears – as well as memories – notice other things too, like the appearance of the theme song from Little House on the Prairie in later Bonanza episodes. (Michael Landon – aka Little Joe Cartwright — launched Little House shortly after Bonanza was finally canceled, so maybe he got a good deal on the rights.)
What's more, despite his immense wealth, Ben wore the same outfit for 14 seasons – right down to the green neckerchief he would take on and off throughout the day, for reasons I've never understood. His sons were similarly one-note, style-wise.
The Cartwright men got shot a lot. Bullets often grazed them, usually on their foreheads. When the wound was more serious it was in the back, reminding us that they were the GOOD guys. (Bad guys shoot people in the back; good guys get shot in the back.)
Thankfully, the Cartwrights were miraculously quick healers.
Another interesting take away: Regardless of personal wealth, everyone in the Nevada Territory apparently carried Louis Vuitton suitcases. I suppose the age of conspicuous consumption was not yet underway in 1960's, so maybe viewers didn't recognize when a new saloon girl stepped off the Overland stage with a $4,000 piece of luggage. But it's pretty amusing to see now.
In a couple of months, I am taking a Bonanza pilgrimage of sorts, to Lake Tahoe and the Cartwrights' old stomping grounds — Virginia City and Carson City. I've always wanted to visit Bodie, a gold-mining ghost town nearby. (It's on my Bay Area bucket list.) I'll consider it a victory in self-restraint if I leave Nevada without a Ponderosa snow globe in my suitcase.
Until then, I'll keep visiting the ranch from the comfort of my couch, and watching the Cartwrights tame the West, one guest star at a time.