I made the ultimate sacrifice in 2016: I skipped Spring Training in Arizona. OK maybe it's not the ULTIMATE sacrifice, but I've traveled to Arizona every year since 2012 so missing out feels like taking a line drive to the heart.
It had to be done, though. I have some apartment redecorating to do, and despite my best attempts at fuzzy math I couldn't get my financial conscience to go along with paying for both. But don't worry, I'm not crying because as everybody knows… THERE'S NO CRYING IN BASEBALL!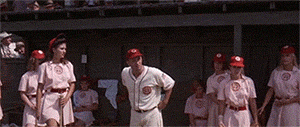 Instead… Today is Saturday, and it's raining outside so I'm watching the San Francisco Giants play the Arizona Diamondbacks in Scottsdale on TV. To convince myself I'm productive, I'm also backing up the 2015 photos on my laptop's hard drive. I found a few from the Giants' September 15, 2015 game vs. the Cincinnati Reds at AT&T Park that I've never shared before. I could use Google to remind myself who won that game, but it really doesn't matter.
I'm officially ready for some baseball.
This slideshow requires JavaScript.